Hello, fellow shoe aficionados! Today marks a special occasion as I delve into my first sneakers unboxing. While my heart often beats for designer heels, my closet also harbours a secret love for sneakers. Today, I'm unveiling a pair that has captivated my attention – the Gucci Rhyton, a silhouette that epitomises elegance and trend in the realm of trainers.
Luxurious Unboxing Experience
Unwrapping the Gucci Rhyton was an experience in itself. The packaging exudes luxury, surpassing any other sneaker packaging I've encountered. The box, adorned with Gucci's iconic green pattern and an intricately engraved texture, sets the stage for what lies within. Every detail, from the paper to the dust bag, is heavily branded, a testament to Gucci's attention to detail. The sneakers themselves are a visual delight. The colour is more elegant in person than on the website, and the vintage Gucci logo adds a sophisticated touch. The ivory leather is soft and luxurious, and even the insoles boast high-quality material.
Design Aesthetics
I chose these sneakers for their trendy yet understated design. While Gucci offers a wide array of bolder, more colourful sneakers, the Rhyton's subtle elegance won me over. This model's design strikes a perfect balance between being chunky and wearable, a refreshing change from more extreme designs like the Balenciaga Triple S.
Here is my favourite Gucci Rhyton Design 
Not your plain white sneaker. Gucci's interpretation of your go-to pair of shoes comes in the shape of these Rhyton Interlocking G sneakers, embellished with the house's signature Web detail to the side. Putting your best foot forward won't be an issue.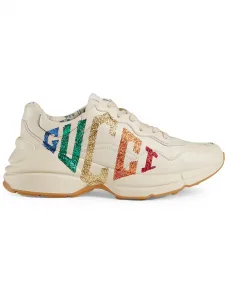 Showcasing tonal topstitching, these Gucci Rhyton Exquisite low-top leather sneakers boast red, orange and blue lettering to reflect the playful narrative of the Maison.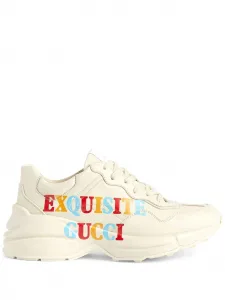 This one is for all the girly girls, that want their daily dose of pink also to pimp up their shoes.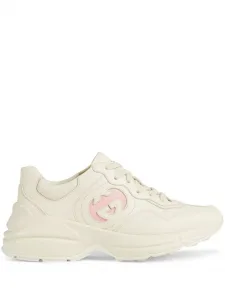 Are Gucci Rhyton's true to size?
In designer heels my true size is typically a 37.5 EU, but with sneakers, I size up. The 38 EU fit perfectly, though sizing can vary depending on the brand and model. The sizing with the Gucci Rython is roughly the same as with adidas for example, in which my size is 38 or 38.5 EU. 
Comfort and Versatility
Contrary to the high heels I usually review, the Gucci Rhyton is definitely made for walking. While not as comfortable as a running sneaker like the Adidas Ultra Boost, it's comfortable enough for long days. It's a significant improvement from the early days of designer sneakers, which often sacrificed comfort for style. This shoe is suitable for various styles and is a great addition to a growing sneaker collection. It's not entry-level in terms of price but offers a fashionable yet practical choice for those who appreciate luxury footwear.
Occasions and Styling
The Rhyton's elegant colorway and subtle Gucci branding make it versatile for different occasions. It pairs well with casual trousers and tops, and can even complement a dressier outfit. While not suitable for gala events, it's perfect for occasions that call for a sportier yet elegant touch.
Pricing Insights
Priced at 775 Pounds, 990 Dollars, or 860 Euro, the Rhyton is consistent across Gucci's website and other retailers. Discounts are rare, so it's advisable not to wait if you're considering a purchase. It's worth comparing prices in different currencies and looking out for retailer-specific discounts. If you want to check them out, I suggest the following retail website:
Concluding Thoughts
My first foray into Gucci sneakers has been a delightful experience. The Rhyton strikes a perfect balance between trendy design, comfort, and elegance. It's a shoe I'd recommend to those who want a luxury sneaker that's not overly bold or streetwear-centric. 
Stay tuned for more insights and tips on navigating the world of luxury footwear!